Dean's Welcome
Warm greetings from Korea University Graduate School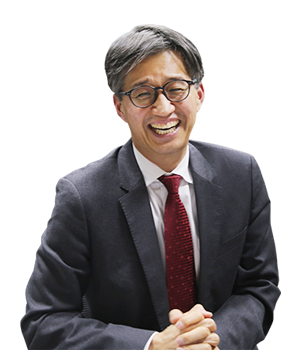 Executive Vice President for
Graduate School Korea University Yoo, Chuck
KU was ranked 69th in the World University Ranking 2020 climbing 14 places from last year's, 11th in Asia and 1st among Korea's comprehensive private and public universities released by Quacquarelli Symonds(QS).
KU is considered a world-class research-oriented university and stands among the top 100 universities in 27 out of 48 subjects within five academic disciplines - Arts & Humanities, Social Science & Management, Engineering & Technology, Life Science & Medicine, and Natural Science areas evaluated.
KU demonstrated a balanced placement in its entries, having 13 disciplines in the humanities and 14 in the sciences that were placed in the top 100. It proved that the university succeeded in avoiding disproportionate developments in different subjects.
KU preparing The Fourth Industrial Revolution offers advanced Master's and Doctoral degrees spanning the humanities, social sciences, natural sciences, and engineering. These programs share many distinctive and desirable features: a high level of engagement between distinguished faculty members, outstanding students and a rich campus environment. Complementing and enriching these degree-granting programs are a wide range of interdisciplinary units that promote intellectual activities and research across departmental and divisional boundaries. For example, KU is dedicated to fostering future creative intellectuals who will hold the key in the uncertain and ever-changing era of The FIR by making Korea's first AI graduate degree program. KU has also increased the number of scholarships for international students invited by the Korean government and reformed some of the scholarship systems created for its international students in Graduate School especially.
"Share your values to create new values at Korea University". We welcome you with deep gratitude.
Executive Vice President for Graduate School Korea University
Yoo, Chuck